Ugh. 
I'm so tired of these deflating losses. Having the Mets shitty offense knock 5 home runs against us definitely constitutes as "deflating".
It was even more deflating because of who the home run hitters were.
One was hit by Todd Frazier, who has been slumping for the Mets lately (more on this later). Obviously he played for us last year and, although he is old, I wish we could have kept him on in some capacity. 
He was only a Yankee for a brief period, but damn, he made an impact. I mean, look at this guy!
I miss you, Todd. (I also kinda miss you a little bit too, Matt Holiday).
Another one of the Mets homers was hit by fucking José Bautista, who also has been slumping lately...see the pattern?
My feelings for this guy are A LOT different than my feelings for Todd. I hate you, José - just so you know.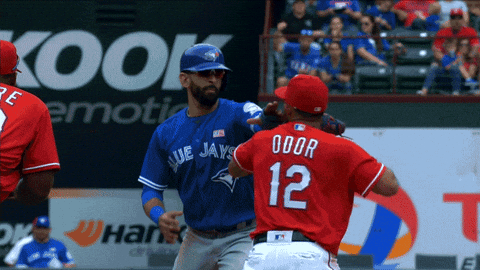 Odor cracking you upside the head was a GREAT moment. It also makes me feel a little better about watching you round the bases in our house, last night. Key words: a little.
Once again, Luis Severino was bad - really bad. It helped a little bit for the Mets, since they had their ace on the mound. Jacob deGrom has a 1.81 ERA. Holy shit. 
Nevertheless, Sevy was horrible last night:
4 IP, 7 hits, 4 ER, 1 walk, 6 Ks.
God damnit, Sevy. Facing off againist deGrom on Monday Night Baseball, I truly believed that this was going to be the day you snapped out of things. But, I was wrong. Dead wrong.
What the hell is wrong with our ace? I mean, talk about a fall from grace...hey, I just made a rhyme on accident! Whoa.
But for real, Sevy must be tipping his pitches right? I mean, how else are these bullshit teams crushing him? The Mets offense SUCKS.
And that is not just me being a biased Yankees fan. Their offense has been downright garbage this year. 
They are the fifth lowest in total home runs this year, but they somehow hit 5 against us?!
Look at this stat:
Yankees 5 HR allowed is most ever in a game against the Mets

— Katie Sharp (@ktsharp) August 14, 2018
I know all of those weren't against Sevy, but you see my point. How do we fix our ace?
Does he need a phantom stint on the DL to get his mind right? Does he need to pitch a couple games in Triple A? Does he need to be sent to a hypnotist and have his mind warped into learning how to be a dominant pitcher again?
All possible solutions. Kidding aside, Sevy needs to fix things. Now.
Without him at the top of his game, how the hell are we going to win the World Series? I mean, I know we have 2018 Cy Young Winner, Lance Lynn, but the man needs help!
Okay, I'll stop my Sevy rant here. 
Luis Severino: 1st time this season he didnt throw a pitch in the fifth inning or later

— Katie Sharp (@ktsharp) August 14, 2018
I'll only mention him now in the flow of the game...
Speaking of the game, we kept fighting and fighting, but nothing was enough. After Sevy gave up 2 quick runs, we bounced back to tie it thanks to a Giancarlo fielder's choice that sailed into the stands, and a Hicksy RBI single.
But then, Sevy gave up the 2 run dinger to Joey Bats.
After he got pulled with us down 4-2, Chad Green pitched a shutout 5th. And Didi notched a RBI single to cut the lead to 4-3 - time for a comeback?!
NOPE.
Because AJ Cole proceeded to give up 3 goddamn solo homers in the 6th and 7th. You have to be fucking kidding me.
We ended up cutting into the lead again, thanks to a 2 run homer by future Rookie of the Year, Miggy Andújar. I'm calling it a lock for Miggy. Until Gleyber shows us a little life. Because wow, he has been ice cold since his DL stint. 
The Mets tacked on another run in the 9th off Zach Britton (what else is new with Zach?) and we lost 8-5. To the goddamn Mets. At home.
Sheesh.
Alright, whatever. This was basically their World Series. 
We start a 3 game set against the Rays tonight. Thankfully, we do not have to deal with the death trap that is otherwise known as Tropicana Field. 
Without their funhouse of horrors, we should take care of this team, no problem...
Will that happen? Man, I really hope so. Losing two in a row to the Mets and Rays would be extremely depressing.
JA Happ on the bump tonight, let's get this win!
LET'S GO YANKS