I am dead from that game.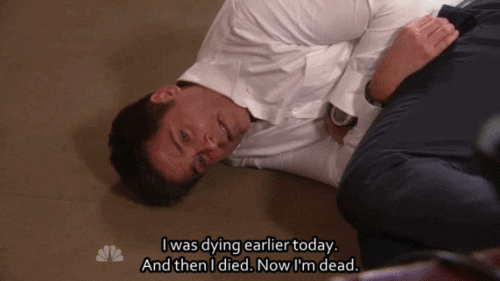 BUT, even in my dead state, I still have a job to do. I still have to recap these games, no matter how much it sucks.
And here we go.
We have arrived at the game that fucking destroyed me inside. Like I said at the beginning of the Game 2 recap, I started writing all of these at 2 AM on Sunday night/Monday morning.
I drank some beers, paced around my apartment, and was incapable of sleeping till almost 5 AM. This loss had me SHOOK.
No joke.
I had a pretty busy weekend so I decided to recap the Friday-Sunday games all at once. I was hoping, that I would be able to take a positive spin, and recap a Sunday night win, after 3 straight losses.
Boy, was I fucking wrong. 
What an absolute and total nightmare. I don't even know how I'm typing right now, because I have been at a loss for words all day.
Let's go through this, real fucking quick.
Tanaka gave us a solid performance - he didn't pitch 5 innings, but he kept us in the game. His only major mistake was that solo bomb to Mookie Betts.
BUT, as I tweeted during the game, you cannot get mad at Masa. 1 run for a starting pitcher is not bad. AT ALL.
His total stat line was:
4.2 IP, 6 hits, 1 ER, 1 walk, 9 K's. NINE. He was killing it, in that regard.
But, with a high pitch count, and after another guy getting on after that Mookie homer, it made sense for him to get pulled. 
Now let's talk about our fucking offense...
Our offense was totally and completely dead. Tanaka was getting zero support and it was totally ridiculous. Even without Gary and Judge, we are so much better than that.
At least, we fought back and got some runs. FINALLY. We had a pulse!
Because it was looking very, very bleak in the first half of the game. But then, miraculously, our bats decided to wake up a little bit in the 7th. I say "a little bit" because it wasn't some prolific offensive display.
Quite the contrary, honestly. 
The bats woke up, but not really. It's like when you set your alarm to wake up for school or work at 7:15, but you don't have to really be up till like 7:45.
(Or 6, for Bill Murray)
You proceed to hit the 15 minute snooze alarm a couple of times, until you are really and truly awake. That describes the Yankee offense. They aren't fully back yet, but they hit the first snooze. 
They got 2 runs off the bat of Hicksy, thanks to a Xander Boegarts error, a single by Giancarlo, and a sac fly by Gleyber. Baby steps. 
I'm still waiting for our juggernaut offense to fucking explode. I'm hoping and praying that will happen in Chicago starting tonight.
Anyways, despite our offense hitting that 7:15 snooze alarm, we still scored 4 runs. I felt good. We all did.
4 runs in the 7th inning and things were looking great! We were going to salvage this series and leave this hell hole of a city with a pity win
(Note: I do not actually think that Boston is a hell hole of a city. From what I have heard, it is actually pretty nice. In case there are any Yankee fans from the Massachusetts area, I do not mean to offend you. And, IF you exist, that is absolutely wild. A Yankee fan from the New England region? How does that happen?! Okay, parentheses rant over)
And then, everything. Fell. Apart.
Chapman came in and struck out Holt. Then he walked Sandy León. No big deal. That's Classic Chappie after all!
Then a walk to Betts. Okay, okay. Maybe a cause for concern.
But he struck out Benintendi! We're we going to get out of this?!
Of course not.
Because we needed to hit rock fucking bottom last night.
Another walk to Steve Pearce and then JD Martinez came up and BOOM. One swing. 
2 run single. 4-3 now.
And then. We all know what happened. I was first going to search for the replay of this on Twitter, but I don't want to subject all of you to that again. 
Instead, here is Joez Mcfly's reaction, because it sums up all of us.
INCOMPREHENSIBLE!!!!!!!!!!!!!!!! OMGGGGGGGG WHYYYYYYYYYYYY #nyy #yankees #PinstripePride #DirtyWater #bos #NYYvsBOS pic.twitter.com/UNfN2r8HDK

— JoezMcfly🇩🇴 (@JoezMcfLy) August 6, 2018
Tie game. Fucking Chappie, man.
He walked three guys, gave up a 2 run single and then we had this error by Andújar.
Miggy needs to step into that throw. You can say that Greg could have fielded it, but he shouldn't have been put into that situation.
And of course, I felt the sense of impending doom. We didn't get a man on in the 10th, and Benintendi walked it off in their half.
We got swept.
It sucks. But it's over.
I'm finishing up this recap right before game time in Chicago.
Let's get back to our winning ways. Let's put this behind us.
Let's sweep this scrub team.
LET'S GO YANKS
Follow me on Twitter @JohnFerraro_