Game 3 Blue Jays Recap: Sunday September 16: 3-2 Loss: How the Hell Did We Lose Another Series to Scrubs?
Well, after starting off Game 1 winning 11-0, this series ended up SUCKING.
Back-to-back losses to head into this Red Sox series, limping and crawling. I know what you're probably thinking, "Pick one, Johnny!"
You can't be limping and crawling - well, I say you can! 
But I digress...
After having a 2 run lead for the majority of this game, thanks to a Cutch solo shot and a Didi sac fly, our bats died out again. 
2 runs in the 1st inning and that was it...you've got to be fucking kidding me. I seriously do not understand this team sometimes. Getting shutdown by the Jays like this is ridiculous.
Anyways, the always inconsistent Lance Lynn gave a pretty solid performance on Sunday afternoon:
5 IP, 3 hits, 1 ER, 1 walk, 7 Ks.
It was a very Lance Lynn type of outing. His lone earned run was a RBI double in the 2nd inning. Other than that, he held this shitty offense in check. So, is that much of an accomplishment? Embrace Debate...
After Lance's day was done, DRob came in and pitched 2 shutout innings, keeping the score at 2-1.
Once again, we were incapable of scoring any more runs...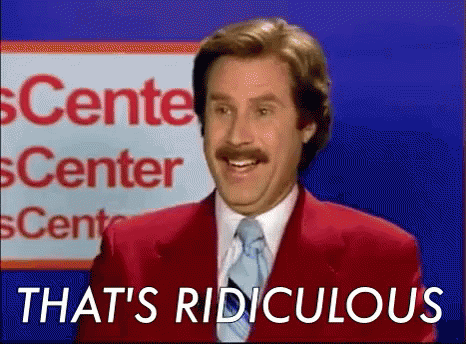 And then, in the 8th, our measly 1 run lead was erased. Now I know that Dellin choked this one away, technically...but I'm more pissed at our offense.
Nevertheless, Good Dellin was not in attendance at Yankee Stadium on Sunday.
His first three batters were a single, a strikeout, and another single. 
I was hoping that he was going to get out of it. But, I had a weird vibe about this Dellin appearance. It didn't feel like dominant Dellin was out there...
He proceeded to give up a RBI single and a RBI double, and bing, bang, boom,  we're losing 3-2.
Shit.
Like I said before, our bats were absolutely garbage during this game - it must've been trash day....and that concludes another Greeny/Darren Rovell joke!
Equating trash day with a baseball lineup would be classic Rovell.
3-2 loss. Infuriating end to an infuriating series.
Ah well.
TONIGHT, we start a 3 game set against the Red Sox.
While we are probably not going to catch them in the division, we need to separate ourselves from Oakland a little bit.
AARON JUDGE IS BACK!
Let's get a win out there tonight! 
LET'S GO YANKS
Follow me on Twitter @JohnFerraro
---