Wow. 2 blowout wins in as many days.
Our squad is finally starting to spoil us with some enjoyable games! Not the usual, heart-wrenching, tear jerking, alcoholism-causing games that they have been churning out lately. 
It's nice to have an easy casual Sunday beatdown. That is the ultimate way to fight off the Sunday Scaries. Am I right? 
Before heading back into your office on Monday and fighting back the urge to absolutely murk your douchebag co-worker.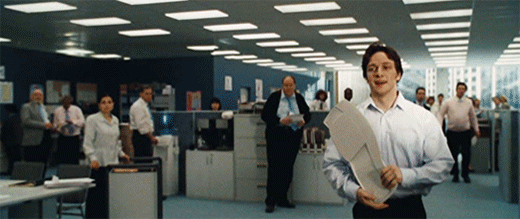 But I digress....
JA Happ has now started 4 games for us. He has won all 4. Whoa. All this guy does is win. He wins more than DJ Khaled featuring T-Pain...see what I did there?
Happ's outing began with a 2 out, solo shot in the first, but he settled down quite nicely after that. One other solo homer in the 6th was the other minor blemish on his stat line:
5.1 IP, 7 hits, 2 ER, 1 walk, 8 Ks. 
8 strikeouts in a little over 5 innings? Niceee.
This guy is consistent as hell. We know exactly what we're going to get out of him. 5 innings of solid pitching - maybe 6 or 7 if he's really locked in. And his earned run totals have also been extremely consistent since his Yankees tenure began:
1 ER, then 3, then 0, then 2. Consistent. I'll take those stat line all day, every day.
Look what I tweeted the other day!
Happ is consistency. Nothing flashy, but dependable and always a go to. He's like peanut butter

— Johnny Pinstripes (@JohnFerraro_) August 19, 2018
JA "Peanut Butter" Happ. Makes perfect sense.
In my classic, go-to fashion, let's run through the two relievers, quickly, before heading to our amazing and high-powered offense. 
Holder came in to relieve Happ, got the final 2 outs of the 6th, then pitched a shutout 7th.
Sonny Gray, in his new reliever spot, very AJ Cole-like, finished out the game - a scoreless 8th and 9th for that smiling weirdo. 
And now. THE OFFENSE.
Being down 1-0 in the first, we erased that lead EXTREMELY quickly. And by "extremely," I mean putting up a 6-burger in the first, scoring all 6 runs before recording an out.
After walks to Hicksy and G, Miggy knocked them home with a RBI single. Rookie of the Year.
Didi knocked home Giancarlo by notching an infield single, but ended up leaving the game a little later after running into Morales at first. And he's now on the 10-day DL...shit. Hope he gets back ASAP.
After a Gleyber single, the bases were LOADED like a plate of delicious nachos. Shit. Now I'm really hungry. Maybe I'll go get a plate of nachos for dinner tonight.
Oh, wait. Nevermind! It's 10 cent chicken wing night at this place in the West Village. I guess I'll have to table my nacho craving for another day...
So...what was I talking about?
OH! The bases were LOADED. For...Greg Bird. And what happened?
GRAND SLAM for GREG BIRD!#YANKSonYES LIVE stream:https://t.co/ONFaE0YXKn pic.twitter.com/ClGAWrWXGV

— YES Network (@YESNetwork) August 19, 2018
GRAND SALAMI FOR GREG BIRD! LET'S GOOO
For a guy who has been struggling as of late, this, coupled with the solo shot the night before, were massive steps in the right direction. Look, I never try and hate on Greg Bird.
When this guy is locked in, he is a VERY dangerous hitter. And with our lineup banged up, we're going to need him to produce now the stretch.
I believe in you, Greg. Keep it up.
Oh, and everybody was pumped about our boy Greggy. 
Judge is the best pic.twitter.com/IwJmKFZKCp

— Jomboy (@Jomboy_) August 19, 2018
This clip of Judge in the dugout is an all-time moment. That guy is the best. What a guy, what a guy. See, I can still say that even when he is out!
And look at giddy, happy-go-lucky DRob in the corner. Just so happy to be back on a winning team again after that stint with the White Sox. Don't worry, David. You're safe now.
Our offense was pretty stagnant until the 6th inning, where we added 4 more runs. Giancarlo had a RBI single, scoring Gardy, followed by Miggy scoring Hicksy on a fielder's choice groundout.
Kyle "Our Third-String Catcher, But for Right Now He is Our Backup" Higashioka, aka HIGGY, added the final 2 runs to our destruction of the Toronto Blue Jays - a single that scored both Lil Toe and Gleyber.
6 runs in the first, 4 in the 6th, and that was it for us. Very unorthodox scoring methods, if you ask me.
But, I'll take it!
10-2 victory. SWEEEEEP.
Bring out Mrs. Doubtfire!
After an off-day yesterday, tonight we start a quick little 2 game stretch in my old stomping grounds of South Florida. 
Well, I lived about 45 minutes north of Marlins Park, but close enough.
Trust me, that stadium SUCKS. Let's get in and out with a nice 2 game sweep, shall we?
LET'S GO YANKS
Follow me on Twitter @JohnFerraro 
P.S. I didn't even say my classic "Sorrey, Toronto!" once in any of these three recaps. But you didn't think I would keep that up, did you?