WOW.
WHAT. A. GAME.
For the first 6 innings, this game was depressing as hell. I was repeatedly slamming in my front door. It was not fun. If I kept that going for the whole game, the long-term effects could have been extremely damaging.
Thankfully, we came back just in time!!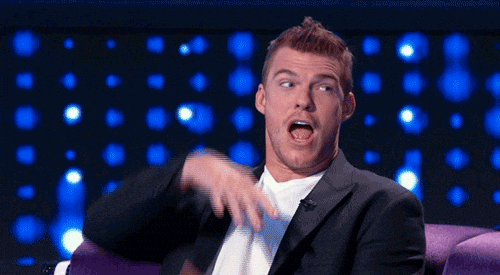 Lance Lynn was on the bump on Tuesday night. And, very similar to Tanaka the night before, he was looking very solid until the middle innings.
ALSO very similar to Tanaka, our offense decided to give Lance no run support.
Yes, I know what you're saying. 
Tanaka was given a 2 run lead by Gleyber, but we had 3 goddamn hits the entire game - Masa could have used more support.
Anyways, Lance was pitching a shutout until giving up a RBI double in the 5th. He was ultimately pulled from the game in the 6th, with 2 men on. Jonathan Holder decided to make things even more depressing for us, giving up 2 RBI singles, and 3 total runs.
HOWEVER, in the classic Stephen A. Smith tone that, I'm sure, you've come to know and love from me, 2 of those runs were credited to Lynn.
His final stat line was: 
5.2 IP, 7 hits, 3 ER, 1 walk, 5 Ks. Not a bad start, but he still put us in a hole. 
Yes, we should have given him some run support, but he clearly began to lag in the 5th inning. 
And, as the 6th inning ended, we found ourselves down 4-0. To the fucking White Sox. After losing the first game by 4 runs.
NOT what you want to see.
BUT, tonight we were feeling a comeback! After kicking back with a cigar and a glass of scotch on Monday night, rolling over, and taking the L, the boys decided to do something about losing.
Love it.
It all started with everyone's favorite bald-headed, psychotic Southern good-old-boy with a need for speed. 
Brett. Gaaaardner. 
After a long and drawn out at-bat, which surely frustrated their pitcher, Gardy smacked a ball to right center and legged out a leadoff triple. Because that is what Brett Gardner does. Damn. Love that guy. 
Oh, and I tweeted about it too...
I love Brett Gardner. Actually. That at bat. That is classic Gardy. What a guy. GARDY PARTY‼️ pic.twitter.com/xVZFydy1gp

— Johnny Pinstripes (@JohnFerraro_) August 29, 2018
Giancarlo and Hicks followed with two bullshit pop-outs and I was going to lose my shit if we didn't do something here. Seriously, it would have taken all my willpower to not punch a fuckin' hole into my wall.
Fortunately, the Rookie of the Year saved me from having this internal struggle of "should I punch this wall or not?"
🚁 Miguel Andujar takes one for a ride! 🚁

📺 #YANKSonYES
📱https://t.co/bGyNVfe4WR pic.twitter.com/DmpCi1zHzE

— YES Network (@YESNetwork) August 29, 2018
MIGGY ANDÚJAR! ROOKIE OF THE YEAR! HE CONTINUES TO DÚ IT, AND DÚ IT, AND DÚ ITTTT!
What a beast. What an absolute and total beast. This kid is something else - such an offensive talent.
To be coming through with clutch hit, after clutch hit, in his first full season of Major League Baseball, is nothing short of remarkable.
I hope this guy is a fixture in our lineup for years to come. DON'T TRADE HIM CASH.
PLEASE NO.
Holder settled down in the 7th, giving us some length by pitching two shutout innings! In our half of the 7th, we weren't able to anything...
But...in the 8th...
THAT AARON HICKS HR SWING 😍

We're all tied up, folks.

📺 #YANKSonYES
📱https://t.co/bGyNVfe4WR pic.twitter.com/H4vUv8tLT2

— YES Network (@YESNetwork) August 29, 2018
HICKSIE/HICKSY!! 2 run homer to tie it at 4! LET'S GOO
Also, in a moment of total selfishness, it's obvious that Hicks was jealous about MIggy hitting his 22nd homer of the year - our boy Aaron was still sitting on 21.
Not wanting to be outdone, Hicks thought to himself "ohhh you're gonna hit a 2 run homer for your 22nd homer of the year? Well, TWO can play that game!"
I'm all for the selfishness, Hicksy! As long as it results in more runs for our squad, you do you. 
With the momentum completely shifted, Dellin came on to pitch a 1-2-3 9th. Good Dellin. Nobody better than Good Dellin. NOBODY.
Andddd, we arrive at the bottom of the 9th. We all know what happened. 
After a Romine strike out, that crazy, 70s loving, dancing fool named Neil strutted to the plate. One swing. Boom. Ballgame. 
(Here come a lot of tweets at ya)
WALK IT OFF WALKER!#YANKSonYES pic.twitter.com/2d3BCjR4LV

— YES Network (@YESNetwork) August 29, 2018
WALK OFF D-I-S-C-O pic.twitter.com/5cb68mPUsD

— Jomboy (@Jomboy_) August 29, 2018
Live reaction to Neil resurrecting disco and ending the game pic.twitter.com/FQ5GHhfEUB

— Jomboy (@Jomboy_) August 29, 2018
DISCO NEIL WALKER.
Holy fucking shit.
This guy was criticized by EVERYONE early on. And I mean everyone. That includes me (hand up), the rest of the Talkin Yanks team, the New York media - everyone.
But what did he do? No, he didn't sit around and cry....or wine...or complain. He buckled down, like the professional that he is, and improved his hitting. He stayed in the lineup and he has been BALLING for a while now.
Props to Cashman and Boone for sticking with this guy, even after everyone wanted him DFA'd or sent down to the minors.
But now? How can you picture this team without him?!
Go ahead. Try. 
Think about it...
Where would we be without Neil Walker? We won have lost more games, I'll tell you that much.
Props to you, Neil. You're the man.
5-4 COMEBACK WIN. Amazing.
Down 4-0 and we respond with two 2 run homers to tie it up. Then a first pitch solo shot in the 9th to win it. Now that is Yankee Baseball at its finest!
Stay tuned for the Game 3 Recap
Follow me on Twitter @JohnFerraro   
P.S. And, of course, a walk-off homer is not complete without THIS MAGIC MOMENT. Big props to Jomboy!
This Magic Moment starring Neil Walker pt 2 pic.twitter.com/H4sg7Bhlzn

— Jomboy (@Jomboy_) August 29, 2018