Game 2 Twins Recap: Tuesday September 11: 10-5 Loss: Getting Crushed by a Sub-500 Team is Not Fun
That game sucked.
Getting 10 runs scored on us by a team 12 games below .500? That really sucks...
To be fair, I should have been bracing myself for a night like this, the second that it was announced for Sonny Gray to get another 'spot start.' Nevertheless, the eternal optimist in me tried to instill a false sense of confidence.
"Sonny has been turning things around. He can handle a horrible team like the Twins! Besides, I like this lineup that Boone is putting out there"
All of these thoughts were racing through my head until game time, before the true reality of the situation set in.
To be fair, Sonny Gray was not the only one responsible for the ten fucking runs scored against us. His stat line was as follows:
3 IP, 4 hits, 3 runs, 2 ER, 3 walks, 2 Ks. 
After Gary gave us a 1-0 lead with a sac fly in the first, we fell behind 3-1 with Sonny on the mound. Their first run was scored on a passed ball by Romine, followed by a 2 run single. 
The floodgates REALLY opened up when Boone put in my guy, and probably your guy, Johnny Lasanga.
Johnny, Johnny, Johnny. What the hell was that? 
It appears that this batch of lasanga was made with some rotten cheese, because our phenom gave us the worst performance of his young career...
In the 4th and 5th innings, Johnny proceeded to give up a RBI double, a RBI single, and walked in a run.
After all of this, and with the bases loaded, he was replaced by Tommy K - and then we were given the fucking pièce de résistance. (That's a little taste of French, in case you were wondering. Yeah, I'm cultured)
I know, I know, you're probably saying: "Chill out, John. We know what the hell that means...or, maybe you're saying this: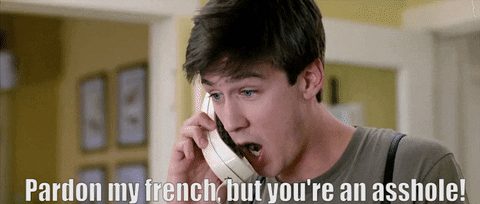 Regardless, the "pièce de résistance" came in the form of a goddamn grand slam. Yup. The first batter who faced Tommy, who ironically was former MVP Joseph Mauer, crushed a 419 foot grand salami. Three of those runs were, obviously, credited to Lasanga.
Sheesh. Typing the words "salami" and "lasagna" is just making me hungry.
And seeing Mauer do well against us made me instantly flash back to the '09 and '10 ALDS. At least we ended up sweeping him, Morneau, and those pretty damn good Twins team. This Twins team? Ehhh, not as good.
THE POINT IS, we were all of a sudden down 10-1 to a super scrub team like the Minnesota Twins.
We actually responded with a grand slam of our own, off the bat of everyone's favorite Knight.
It's a GRAND SLAM for Sir Didi!@Yankees trim the deficit to 10-5.#YANKSonYES LIVE stream:https://t.co/Ka0fpa4V7V pic.twitter.com/NOVj2hVpFJ

— YES Network (@YESNetwork) September 12, 2018
Nice knock, Didi. But it proved to be a fruitless effort...the score stayed the same:
10-5 loss.
Ugh. Such a disapointing game.
All of a sudden, we are only up 2 games on the A's in the Wild Card standings. TWO. TWO measly games.
We CANNOT afford to lose out on playing the Wild Card game at home. If we have to go to Oakland, I will definitely body check the shit out of a DJ. I've been talking about this for a while.
BUT, I will follow through with it this time. No more empty promises.
For real, though. We cannot allow that to happen.
Sevy is on the bump tonight...we really, really, REALLY need him back to his old ways. Right now. 
Please, Sevy. 
Let's get this win tonight!
LET'S GO YANKS
Follow me on Twitter @JohnFerraro    
---