Sooo.
The main question after this game is: "have we seen enough from Sevy for him to start the Wild Card Game?"
And yes, I'm writing this on Friday - I'm an honest man, wouldn't lie to you guys.
But the question still applies, even if we've had days to consider it!
Sevy's line on Tuesday was:
5 IP, 4 hits, 2 ER, 3 walks, 7 Ks
The man cruised through the first 2 innings, like Dominic Toretto down the streets of LA.
Yes, that was another Rovell/Mike Greenberg joke. I try to embrace my corny side and throw a nice homage to those guys, every now and then. 
The point is, Sevy was cruising. Until the 3rd, when he started to show signs of the scrub-side of Sevy that we have seen A LOT since the All Star Break.
He gave up a double, hit a guy, walked a guy, and then gave up a 2 run double. He settled down for the 4th and 5th, but the writing was on the wall...
He was finally yanked from the game after proceeding to give up a leadoff double in the 6th inning. Now, does a performance like this instill a lot of confidence for the Wild Card?
For the fans? No, probably not. Definitely not for me. 
For himself? Probably not either. Luis seems like the kind of guy who really beats himself up after a start. No, I'm not talking Fight Club style.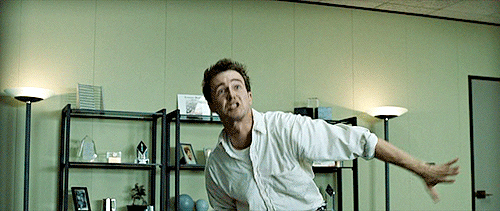 Figuratively! You guys know what I mean...
After Sevy's day was done, Tommy K, Tarpley, and Domingo (he's back!) pitched some shutout ball.
It was also convenient that Sevy came up those 2 runs while we were shellacking the Rays. Because baby, we were SHELLACKING them. Great word by the way.
The offense started thanks to the most likely power hitter of them all...
Adeiny Hechavarria of course!


Hechavarria! MAMA MIA!

Sterling had a HR call ready for Hech this time. pic.twitter.com/WMB0g0QzTp

— Jomboy (@Jomboy_) September 26, 2018
Solo shot! And a great call by old Johnny Sterling.
After a Gardy Party triple, #MYfirstbaseman hit him home, ripping a double. Because Luke is a goddamn monster. Everybody knows that. 
Later in the inning, with the bases loaded like a delicious plate of nachos, Disco Neil walked in a run, a favorite pastime of his. Miggy followed it up with the always underrated, sac fly. 
And then we got a big blast from a guy who really needed that. 
KRAKEN!!! Gary Sanchez blasts a 3-run home run to make it 7-0 Yankees.#YANKSonYES live stream: https://t.co/2uRuQyg8DU pic.twitter.com/pAslahgNBC

— YES Network (@YESNetwork) September 26, 2018
GARY! TEDDY BEAR GAR!
Man, he needed that. 
He followed it up with a RBI single in the 5th, bringing his RBI to four on the day. Is he back?!?! Ehh, not sure yet. But I really fucking hope so.
HOME RUN: Miguel Andujar padding that potential Rookie of the Year resume. pic.twitter.com/q3AwgF3NLq

— YES Network (@YESNetwork) September 26, 2018
Miggy added a solo shot to cap our run scoring, basically just padding his stats and making all the other young guys around the League look like mere mortals. Miggy is incredible. 
9-2 Win. Great team win.
Stay tuned for recaps of Games 3 and 4 before the Boston series starts up!
Follow me on Twitter @JohnFerraro