Damn. These last two days were extremely frustrating. And annoying. And upsetting. And a bunch of other adjectives that I do not need to recite.
I'm going to recaps Games 2 and 3 of this Tampa series, then let's put it behind us, and focus us Toronto...
Why the hell do we keep starting Luis Cessa in these damn spot starts? We have so many better options than this guy. 
Chance Adams - we already saw him. He was good!
Justus Sheffield - give the man a shot, Cash! What are you waiting for?
We could have also picked up a guy from the free agency heap.
Rick Vaughn...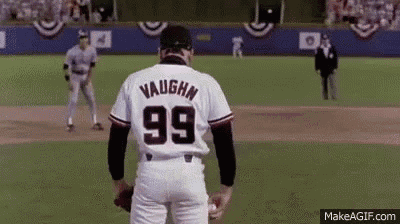 Henry Rowengartner...
How about Blackout Gatling?
(Only true OG baseball movie fans, will know this guy. Little Big League is a VERY underrated movie. Yes, I know Gatling was a reliever in the movie. I wanted a Mike McGreevy gif but couldn't find one..oh well)
Also kidding aside, I really wish we went with Adams, again, or finally gave Justus a shot. 
I'm so done with fuckin Luis Cessa:
3.1 IP, 7 hits, 5 ER, 2 walks, 4 Ks. Jesus.
Cessa was responsible for all the runs, well, until Sonny Gray came in and gave up another. What a surprise!
Our offense, on the other hand, was totally and completely stymied by this elite crew of pitchers that the Rays trot out. 
Our lone run came off the bat of Miggy Andújar - a solo shot.
Because he continues to DÚ it, don't ya know? 6-1 loss. Ridiculous 
Okay, that's all I want to say about Game 2. It sucked. Onto Game 3! Which sucked more...
Follow me on Twitter @JohnFerraro