Jeez. What a tease.
This game gave us all the ultimate "blue balls." For any of you youngsters out there, who have no idea what I'm talking about...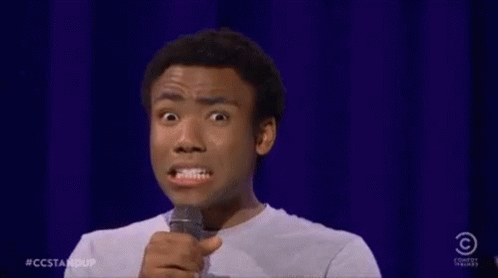 Go ask your parents what "blue balls" means. Or Google it. The Internet has all the answers, after all. 
Don't ask me. Forget I mentioned it!
(Side note: This gif was actually perfect to use, because I saw Donald Glover/Childish Gambino perform at the Garden after this game and he was INCREDIBLE. Amazing concert.)
Anyways, this game really was a fucking tease - so goddamn annoying.
We were down 8-1 and looked completely dead. Then, we come back, cut the lead to 1, and still end up losing...
What the fuck?
Why'd you have to do that to us, guys? Getting us all excited and hyped up, only for it to end in heartbreak and frustration. 
First of all, CC was bad. Like really bad. Like really, really, REALLY bad. It really makes me sad to see him pitch this way. He's become one of my favorite Yankees in my lifetime, so seeing him struggle in his old age is rough.
I know I don't usually get sentimental on these posts, but I'm being dead serious. You're getting saw raw, unscripted Johnny. Pretty rare, honestly.
CC's abysmal stat line on Saturday was:
2.1 IP, 7 hits, 5 ER, 0 walks, 2 Ks. Three of these runs also happened to be dingers. Sooo, yeah...not a good day for CC.
With the game at 5-0 for a while, we were able to get onto the board with a Didi solo shot, hitting his 2nd homer in as many ways.
"Home Run Didi" is back, which is MASSIVE. He's getting hot at just the right time. Just in case, we're down 3-0 in the first inning of the Wild Card game, we know who to turn to...
But, to be fair, it's not like that is going to happen. I mean, let's be honest, that would NEVER right? And I'm not saying "happen again," I'm saying that will never happen ever. Even once. BUT, if it did, I bet Didi could bail us out. Just a hunch
(Baseball bloggers have short-term memories)
Chaddy Green and Holder pitched some shutout ball, keeping the score in place. But, Tommy K ended up surrendering 3 runs to make the game 8-1. Damnit, Tommy. I always try to like you, and defend you, but you keep scrubbing it up out there. And I am tired of it!!
Where the hell is dominant Tommy K from last year? GO FIND HIM AND BRING HIM BACK. Please...
Down 8-1, I was not feeling too optimistic. And by that I mean, not optimistic at all. I had fought through my hangover from my birthday festivities of the night before, and I had proceeded to crack open a couple of Blue Moons...
I'm not an alcoholic, I was pregaming for the Gambino concert!
Anyways, with the score at 8-1, it took a lot of my willpower to not launch empty beer bottle #1 at the wall. But, I practiced great restraint. I held in my anger. 
But I still wasn't feeling positive about any sort of comeback. 
HOWEVER, yes in Stephen A.'s voice, our team had different plans. 
It started with a Giancarlo MOONSHOT.
Giancarlo Stanton gives one a ride!#YANKSonYES LIVE stream:https://t.co/dPiwW7YoRU pic.twitter.com/xTK7GVPRa5

— YES Network (@YESNetwork) September 15, 2018
Whoa.
Then that was followed by a Didi solo shot, his second of the day! 
*See my above blurb about Didi and home runs. Please and thank you*
Most home runs by a #Yankees shortstop in a single season:

1) 26 - Didi Gregorius (2018)
2) 25 - Didi Gregorius (2017)
3) 24 - Derek Jeter (1999)
4) 23 - Derek Jeter (2004) pic.twitter.com/kgRfR5LKl8

— YES Network (@YESNetwork) September 16, 2018
After a Gary groundout, Gleyber doubled and Neil "He Doesn't Always Walk" worked a walk! Yeah - I said he doesn't "always" walk. But sometimes he does!
Everything seemed to be falling into place. The Blue Jays brought Tyler Clippard into pitch. TYLER CLIPPARD.
Tyler Clippard pitching in Yankee Stadium is like lighting a cigarette while standing in a pool of gasoline.....
I don't know why John Gibbons would ever think this was a wise move:
Clippard immediately walked #myfirstbaseman Luke, and the Stadium was reaching a breaking point. A fever pitch, if you will. 
Voit draws the walk. Stadium is itching to explode. Make it happen Miggy pic.twitter.com/stD0P3KPFt

— Jomboy (@Jomboy_) September 15, 2018
Miguel "There's No Question, He is the Rookie of the Year" Andújar, began his strut to the plate - he settled in, saw the first from Clippard and, boom.
Miguel Andujar has ice in his veins. pic.twitter.com/vDpKqY0WMx

— YES Network (@YESNetwork) September 16, 2018
MIGGY WITH THE GRAND SLAM!!
Un-fucking-believable. I literally knocked over beer #2 and had to frantically clean it before it destroyed my laptop.
Andújar is so fucking good and he's soooo young. It truly is remarkable.
With the comeback almost fully completed, I thought this game was locked up. 
No way we're gonna lose this! But, the baseball gods seem to really love making our lives miserable lately...
We weren't able to get a single hit in the 8th or 9th - our only baserunner was off a walk.
We kept the score at 8-7, thanks to Dellin and Britton, but we were totally incapable of mounting any more offense.
Like I said to start this piece, WHAT A TEASE. Horrible.
After all that excitement of the comeback in the 7th, with solo shots by G and Didi, followed by the Miggy Grand Slam. Come on! You gotta complete the comeback and win that. Ugh.
8-7 loss. Not good
Stay tuned for the Game 3 Recap
Follow me on Twitter @JohnFerraro