Nice, simple win last night!
Not too much action and not too many runs were scored, but a win is a win!
Wow. JA Happ has been dominant as hell to start his Yankee career - he is now 3-0 in his first 3 starts!
As Jomboy and others said last night, there isn't really anything exciting about JA Happ. Overall, he's a pretty boring guy. 
NOT as boring as the teacher in Ferris Bueller, but boring nonetheless...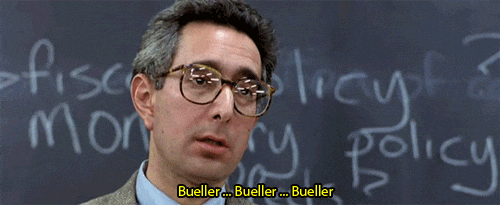 But, does it matter? As long as he keeps pitching like this, who the hell cares if he's boring or not?
Isn't it a good thing when we don't even realize that our starting pitcher is throwing a 1 hitter?! That's pretty cool honestly - not even realizing that!
Despite his boringness, Happ was absolutely DEALING.
7 IP, 1 hit, 0 runs, 4 walks, 4 Ks. Whoa.
His season ERA has also dropped from 4.18 to 3.86 since joining our squad. And do you want to know his combined stats in his 3 Yankee starts?
Well, even if you didn't want to hear, I'm going to tell you anyway!! That's the beauty of writing a blog. I can basically say whatever I want...within reason. 
I definitely want you guys to keep tuning in so I'm not going to start ranting about the growth of the Industrial Revolution in America, or the man who has eaten over 30,000 Big Macs, or the amount of times Darren Rovell has been roasted on Pardon My Take.
(NOTE: I just tried to think of three equally random topic to throw into this blog. Not bad, right? Thanks for tuning in, I will resume Yankee talk now...)
Soooo. JA Happ's stats right? That's what I was talking about!
In his 3 starts with the Yankees, these are Happ's stats:
19 IP, 8 hits, 4 ER, 6 walks, 15 strikeouts. 3 wins.
Not bad. Not bad at all. 
I tweeted something along these lines, but with Sevy struggling as of late, and now CC on the DL, having Happ and Lynn has been AMAZING. Cashman is a genius.
J.A. Happ and Lance Lynn With Yankees:

35.2 IP
1.26 ERA
0.84 WHIP
37/10 K/BB

— Katie Sharp (@ktsharp) August 15, 2018
So, as I do quite often, I'm going to run through the relievers before talking about our offense...
After JA's stellar seven innings, he turned the ball over to Dellin "Old Dellin is Back" Betances. And Old Dellin is still back. He might have given up a solo shot to the first batter he saw, but that was merely a minor blip on the radar. He looked great after that. 
Chappie came in for the save, got 2 outs, gave up a single (Classic Chappie), and then retired the final batter for his 31st save! 
BUT, let's now pull a Marty McFly and hop back into time to talk about our bats.
Overall? They were also pretty boring and quiet last night...only 7 hits. 
We scored our first run off a RBI single by the red hot Hicksy. Man, this guy has been more dialed in than a bar of soap...see what I did there?
Even with Happ pitching the way that he was, getting a couple insurance runs is always appreciated. Luckily, we have a bad ass power hitter like Austin "Row Row Row Your Boat" Romine to take care of business!
Austin Romine making statements.

🚣🚣🚣🚣🚣🚣🚣🚣🚣🚣🚣🚣🚣

📺 #YANKSonYES
📱 https://t.co/NclslPnwap pic.twitter.com/jrYin9POo9

— YES Network (@YESNetwork) August 15, 2018
RO RO. THE BEST BACKUP CATCHER IN BASEBALL.
I love this guy. He has honestly become a real favorite of mine this year. He's not some overwhelming talent, but he is a gamer and he works hard as fuck.
I respect that. You da man, Austin. 
That concluded our scoring, but Miggy Andújar added two more doubles - is that really a surprise at this point?
Check these stats out
Miguel Andujar: 53rd extra-base hit, the most by a Yankee rookie age 23 or younger since Bobby Murcer (54) in 1969

— Katie Sharp (@ktsharp) August 15, 2018
Miguel Andujar has 33 doubles this season.

Brett Gardner (16) and Aaron Hicks (15) have 31 doubles combined this season.

— Katie Sharp (@ktsharp) August 15, 2018
Unreal.
Anyways, 4-1 win! WOOO.
Luis Cessa is on the bump tonight, in one of his signature spot starts. Jeez.
Let's hope we can take care of this scrub Rays team without any issues...and Lil Toe is back in the starting lineup! WELCOME BACK, TOE.
Let's keep the wins coming!
LET'S GO YANKS
Follow me on Twitter @JohnFerraro