Awesome win on Friday night...
(Spoiler Alert): It turned out to be the only enjoyable game of the weekend. From a strictly selfish perspective, I was pretty happy to be able to celebrate a Yankee win on my 24th birthday. 
For any of you that are curious about how my birthday/Friday night were, let's just say...hmm, how do I phrase this?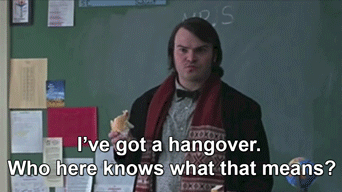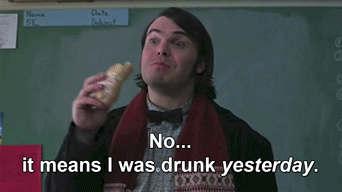 Basically, I spent the majority of Saturday laying in bed, clutching a water jug like I was cuddling a girl (yeah, I like cuddling sometimes, sue me), and contemplating my entire life's choices.
Note: My hungover mornings/afternoons usually cause me to experience immense regret, not just for drinking a lot the night before, but also random stuff from my past. Like when I punched Lyle Simpson on the playground in 3rd grade.
(I made that name and story up - shhh. There is no Lyle Simpson)
Okay, wow, I've been terriblly sidetracked. My apologies. 
Anyways, Friday night was an extremely fun game of baseball for our guys. 
First of all, Masahiro "Always Happy and Smiling" Tanaka is a goddamn MONSTER. An absolute beast. Man, I love this dude.
On Friday night, he gave us another dominant performance, which seems to be happening for this guy on every single start, post-All Star Break. 
Here was his stat line: 
6 IP, 4 hits, 0 runs, 2 walks, 8 Ks. 
He has thrown a complete game shutout, as well as an 8 inning shutout, so this was a pretty average game for our boy, Masa. Just kidding. But, my point is that we have come to expect these types of game from him recently.
6 shutout innings is a walk in the park for Tanaka. He has been one of the best damn pitchers in the entire league. 6 innings is child's play! 
After his day was done, Luis Cessa did exactly what we needed him to do: AKA, come into a blowout, pitch three innings, let our bullpen rest, and don't screw up.
Good job, Cessa! Ya didn't screw up!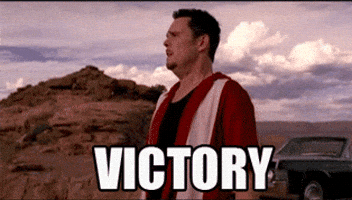 Way to go, guy. 
NOW, let's talk offense!!
Cutch got the party started, real quick, with a leadoff double. Giancarlo followed with a walk, before...
A RBI single for Hicksy! Didi had a RBI groundout, Gleyber had a RBI single of his own, and then we were treated to a 2 run double by MY first baseman, and hopefully yours, Luke fuckin' Voit. THE MAN.
5-0 in the first inning. 
We took a break from scoring in the 2nd and waited until the 3rd.
Gardy notched a RBI single (a lot of these tonight), and then G had a 2 RUN SINGLE! Breaking away from the pattern, I like it. Way to be a trendsetter, G.
In the 5th, we were finally tired of knocking balls around the inside of the ballpark. The team now decided to try a new approach...launching a ball outside of the stadium! Crazy, right?
The first dinger came off the bat of my guy, Cutch! 9-0
In the 8th, Didi added a solo shot of his own! 10-0
And lastly, Gardy ended the party with a nice, underrated sac fly. It's honestly pretty fitting to have Gardy conclude the scoring...he is the Gardy Party guy, after all. Not only that, but being the old timer on the team, it makes sense for him to end the party and ruin the young kids' nights:
"You damn kids! It's time to shut this party down! I'm an old man, I'm tired. Go to bed, or I'm calling the cops - and get off my lawn!"
You tell 'em, Gardy.
Soo, 11-0 victory! Awesome win...too bad that Games 2 and 3 weren't as fun.
ONE LAST THING.
In the 8th inning, we were treated to a little excitement. And by a "little excitement" I mean that everybody and their mothers were FREAKING THE FUCK OUT.
Because Aaron "What a guy, what a guy" Judge, my favorite player on this entire planet that we call Earth, was called upon to play right field.
HE'S BACK.
He had been activated earlier to "run the bases and play the field" - that sounds sexual. But, I'm trying to say that we were given a warning that he might get out there. 
BUT, when he ran onto the field, the Stadium went CRAZY. 
What a moment.
Judge soaking up every second being back with his fans in right field pic.twitter.com/Bqyrf4rKaa

— Jomboy (@Jomboy_) September 15, 2018
Just like all of you, this girl is a @Yankees fan for life. 😉 pic.twitter.com/aeTKQBbEgY

— MLB (@MLB) September 15, 2018
Follow me on Twitter 
@JohnFerraro